The LinksPAD
Now you can keep your own collection of links from Ikani's Homestead on your computer (your Desktop). Introducing Ikani's Homestead LinksPAD with all your favourite links to some of the Web's best sites. No need to bother typing in the site addresses into your browser first or search for them online. Simply click on the desired link on the the LinksPAD and go straight to the site.
For the latest links, be sure to keep checking the Ikani's Homestead site.
Download the LinksPAD now (584kb). Unzip the file after downloading (you'll need WinZip) and start using.
Contains over 200 useful links!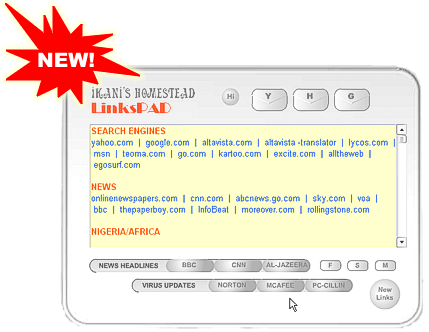 Made with Macromedia Flash
© COPYRIGHT ISMAILA IKANI SULE '25/2K+4.